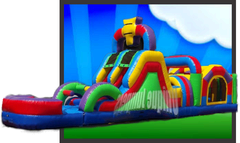 Thrill Blaster Water Challenge

Actual Size: 43LxW11xH14
Water Obstable Course!
The Thrill Blater Challenge Course is great for all ages. It is a
43L x W11 x H14
2 lane obstacle course with a water slide, jumpimg area and pool at the end. The course combines all the fun of an obstable course challenge, jump house with a water slide. This colorful inflatable will brighten up your birthday party or large event.